One of the major reasons that men and women flock to Fuckbook is because they have secret desires. Translation: these men and women have fetishes and kinks they don't want to admit in mainstream dating or relationships.
And these Fuckbook kinks and fetishes amount to 1000s of searches a day by people looking to find willing, consensual partners.
So what are the top Fuckbook fetishes and kinks?
Why Do People Hide Fetishes From Signifigant Others?
We must start here if we want to understand why fetishes and kinks are such a hot search on Fuckbook.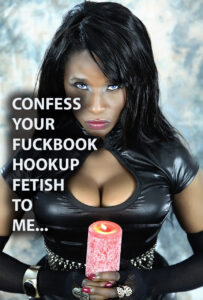 Its a twofold answer:
For Single Folks: When you are single, the prospect of asking someone you just met for some bondage fun is pretty intimidating. It might not be greeted with a kind response. You've established no comfort level with this person. You may not even be aware if they are into having sex with you at all, much less using ropes and paddles.

But even when you do start to know this person more and have even had sex, fetishes and kinks remain a tough, complex discussion that no one wants to risk ruining a new relationship with.
For Taken Folks: If you've been dating or married for years and your kinks have never come up, the discomfort has mounted to higher levels and it is unlikely you will ever bring them up. To keep it simple, it feels flat out embarrasing to bring this stuff up.
The Takeaway: Folks go on the prowl. They entrust their kinky fantasies with anonymous persons on adult dating sites like Fuckbook. They see less risk in exploring fetishes with people admittingly wanting no-strings-attached sexual encounters. They realize that if the girl or guy declines, they just disappear. They don't go around town telling everyone in their local watering hole that you are into being spanked.
Therefore, fetish searches are one of the most popular ways people attempt to find a sexy hookup.
Top Fuckbook Fetishes and Kinks
Here's a list of popular fetishes and kinks on Fuckbook.
BDSM
50 shades of Fuckbook?
Prepare for a little discomfort and even pain if you go down this road. While Fuckbook isn't an epicenter of BDSM lifestyle, the searches for this fetish and kink are high.
That's because a lot of folks want some BDSM play, but don't have any desire to be a part of the BDSM community which can be intimidating.
Instead, lots of people want a spanking, or want to give a spanking, or enjoy some light bondage. All the same, BDSM fantasy exploration is super popular.
BDSM is an extensive fetish that includes a lot of kinks.
Orgasm control
Bondage
Dominant vs Submissive
Humiliation (verbal and physical)
There are lots of directions to take a BDSM fantasy. Often, these fantasies begin soft and evolve when you find the right, trusting partner.
BDSM is no joke even if it is done lightly. Always make sure consent is a top priority. Use safewords so that all parties know when to cease the behavior.
Anal Play
Anal sex and anal play using dildos is a big kink in Fuckbook land. Although anal sex is more mainstream than ever these days, it doesn't mean that people have found any comfort in expressing these desires to partners.
People tend to feel more comfortable partaking in anal sex fun with partners who are discreet and somewhat anonymous.
Voyeur Sex
Ever had a desire to have sex in front of other people? This may feel as though it violates the Fuckbook discretion hookup code, but it is searched more than you think. And often, people who dig voyeur sex belong to small, discreet communities who are just looking to expand their playful contacts.
Having other people watch you have sex is as kinky as it gets. And lots of people really dig it. But most of those people would find it impossible to get their signifigant other to be down with such a thing. So, Fuckbook it is.
Role Playing
Every had a fantasy over banging your college professor?
Maybe you are a woman who dreams of a guy showing up to help you with plumbing needs, only to bend you over the sink and have his way?
Role playing is a big draw for adult hookup apps. You don't need an acting degree to partake, either, just a desire to be a bit playful with your sexy partner.
The anonymity of Fuckbook allows you to reach for the stars in your debut performance as you don't worry about feeling embarrased with someone you know too well.
Cuckolding
Some men enjoy watching their wife take another dude's cock. Its an extremely hot Fuckbook fetish that both partners are into. And there are more than a few willing dudes on Fuckbook at the ready to throw down some dick in your lovely lady.

While it may seem unimagineable to some couples, Cuckolding is a super popular fetish in the United States.
Group Sex
Sometimes sex is better with more than just two people, at least that's how a lot of Fuckbook hookup folks feel.
Group sex is really a massive orgy. It involves at least three people, but in reality, way more than three people. Because group sex involves a heck of a lot more than just two people, searching for willing participants on adult hookup apps is a popular strategy in finding new penises and vaginas.
Having a massive orgy can be a fun way to have a party. Let's face it, you won't be bored. One must have a "variety is the spice of my sex life" attitude to have fun with group sex.
Foot Fetish
Ah, one of popular culture's most fun fetishes. Foot fetishes are commonly featured in TV shows and movies. And not just because it sounds a little funny, the foot fetish is a very real kink that many people have. But it remains, many of those people are embarrased to admit their foot sex desires.
In this fetish, feet are worshipped, used as a foot "handjob," and licked and kissed.
Hey, some folks just love them some foot sex. Fortunately on Fuckbookm, they have opportunity to find it.
Remember, this list is only the top Fuckbook fetishes, not all kinks and fetishes. That list is too long to post. We call those "micro-fetishes." If you are in a place in life where you desire sexual fantasy exploration, sign up for the Fuckbook hookup experience and begin your journey.
But always be safe and considerate of others. They'll appreciate your candor while respecting your kinky needs a heck of a lot more when you are nice.